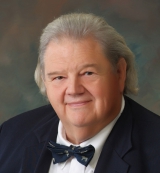 Awards
IUPUI Maynard K. Hine Medal (2015)
About Terry R. Brown
For the past 30 years, Terry R. Brown, BA'73, MD'77, Residency'81, has provided steadfast service to the IU School of Medicine through its medical education program in Evansville and his tireless work on the school's alumni association board of directors. His dedication to the School of Medicine, its alumni association, and the IUPUI campus during that time has been immeasurable.
After earning a bachelor's degree and MD from IU, Brown completed his residency in obstetrics and gynecology at IU in 1981. Terry has hosted fourth year medical students in his clinic since 1985 and was appointed volunteer clinical assistant professor at the School's Evansville campus in 1995, steadily rising to volunteer clinical professor. He currently practices at Memorial Hospital and Health Care Center in Jasper, Indiana.
Brown has provided his many talents as a volunteer to the School of Medicine and a generation of students now recognizes him as an invaluable part of their medical education. A lifetime member of the IU Alumni Association, he has been an active member of the IU School of Medicine Alumni Association board since 2003, serving as director, treasurer, president-elect, and president. Terry continues his volunteer service with the Alumni Association.