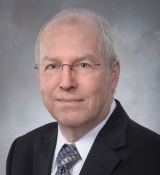 Awards
IUPUI Maynard K. Hine Medal (2015)
About Ronald L. Crain
Ronald L. Crain, BFA'66, understands the importance of giving back to the school and campus that have played such a large role in shaping his life and career. After graduating from the Herron School of Art and Design with a degree in visual communication, he quickly embarked on a successful career as a graphic designer. Now retired, he works as a freelance art conservation and restoration expert.
Crain's significant contributions in support of the Herron School, its alumni programs, and the campus, have been consistent, meaningful, and heartfelt. In 2007, he and his wife, Sandy, provided a financial gift to help create a display in Eskenazi Hall highlighting the work of outstanding faculty and alumni. Recently, he contributed to the 2014 Harry A. Davis Memorial Scholarship, which honors the renowned Hoosier artist. The scholarship is awarded to an art student in any medium.
A lifetime member of the IUAA, Crain is an honorary board member and past president of the Herron Alumni Association. Whether it's staffing a table at a Herron gallery opening, helping serve pizza to students to raise awareness of the IUAA or attending a visiting artist lecture—Ron is there, to advocate on behalf of the Herron and IUPUI.