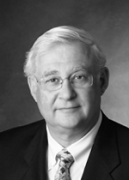 Awards
Partners in Philanthropy (2019)

Cornerstone Award
Bicentennial Medal (2019)
Presidents Circle Laurel Pin (2013)

Benefactor
About Gary J. Anderson
Dr. Gary Anderson is a retired Managing General Partner and now Senior Advisor of TL Ventures (Wayne, PA) one of the venture capital industry's most prestigious technology investment groups. TL Ventures manages over $1.5 billion of invested capital targeting multiple focused technology areas. As part of TL Ventures, Dr. Anderson has helped to guide more than 30 companies through successful initial public offerings (IPO's), mergers or acquisitions. Prior to TL Ventures in 1989, Gary was Executive Vice President at Safeguard Scientifics, Inc., where he guided corporate technology strategy and managed several successful information technology portfolio companies for four years. He has served as chief executive officer of several software companies and was a consultant or advisor to Hewlett-Packard Corporation, Motorola and other Fortune 500 companies.
Prior to joining Safeguard Scientifics, Inc. in 1987, he was a cardiologist focused on mechanisms of sudden death. As a Professor of Internal Medicine and Professor of Physiology and Biophysics at Hahnemann University (now Drexel University) School of Medicine in Philadelphia, PA, he was head of cardiovascular research at the Likoff Cardiovascular Institute and Associate Dean of the medical school. During his academic career, he published 184 manuscripts and abstracts and was a contributor to nine textbooks. He served on the editorial boards of numerous scientific journals and was a member of many national and international committees including the National Institute of Health, the American Heart Association and the American College of Cardiology.
Dr. Anderson currently serves on several Boards of Directors and was founding chairman of Matchlogic (sold to Excite) and ChemGenics (merged with Millennium Pharmaceuticals). He plays an active role in numerous philanthropic and cultural organizations. In addition, he is chairman of the prestigious Benjamin Franklin Medals, America's oldest awards for scientific achievement created 180 years ago and chairman of the Franklin Institute's Bower Award for Business Leadership. At Indiana University Dr. Anderson serves on the faculty of the Johnson Center for Entrepreneurship and Innovation (JCEI) and is Chairman of the National Advisory Board of the Jacobs School of Music. In addition he is on the Advisory boards of the JCEI, the Kelley School of Business and the School of Medicine.
He attended Wayne State University for undergraduate work and received his medical degree from the University of Michigan and completed his post-doctoral work at Indiana University. As a major in the US Army, Dr. Anderson served in Viet Nam and at Fort Bragg, NC. His hobbies include fly-fishing and classical music.