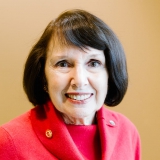 Awards
Partners in Philanthropy (2019)

Herman B Wells Visionary Award
Presidents Circle Laurel Pin (2013)

Fellow
About Linda Challis Gill
Linda Challis Gill is a graduate of the University of Kentucky. She worked for American Airlines for nine years as a flight attendant and public relations professional. She met and married Jack Gill in San Francisco in 1969.
As a full-time parent, she coached and managed various sports teams, was President of the Palo Alto PTA and headed the drug education programs for Palo Alto School District. She has been a volunteer for 30 years in the academic medical community, including the Stanford Medical Center in Palo Alto, Methodist Hospital in Houston, and the Massachusetts General Hospital in Boston.
Linda serves as Director and Vice President of The Gill Foundation of Texas, overseeing the scholarship programs and university relations. She is on the Advisory Board of the Gill Heart Center at the University of Kentucky and serves on the board of the school's Capital Campaign. She also sits on the Board of Advisors at Methodist Hospital and Indiana University's Jacobs School of Music.