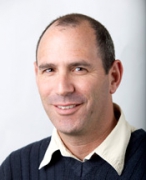 Awards
Fulbright Award (2015)

Brazil
About Amit Hagar
Amit Hagar is a professor of history and philosophy of science and medicine in the College of Arts and Sciences at IU. He joined IU's faculty in 2006 as an assistant professor and was promoted to full professor in 2016, while also serving a time as chair of the Department of History and Philosophy of Science and Medicine. He received his B.A. in Psychology, Philosophy, and Cognitive Science in 1996 and M.A. in the philosophy of physics in 2000 from Hebrew University of Jerusalem, and his Ph.D. from the University of British Columbia in 2004. After receiving his Ph.D., Hagar accepted a von Humboldt post-doc in Konstanz, Germany.
As a philosopher of physics, Hagar's academic interests focus around the foundations of modern physics, especially in the notion of objective chance, the philosophy of time, the notion of physical computation, the foundations of quantum information theory, and the biophysical modeling of cancer. Hagar is also the founder and CEO of CELLSOR LLC, a start-up focused on optimizing diagnostic and therapeutic procedures based on individual aerobic fitness.
Hagar received a Fulbright Scientific Mobility Award to Brazil in 2015-2016 and is the recipient of two National Science Foundation scholar's awards in 2009-2010 and 2010-2013.