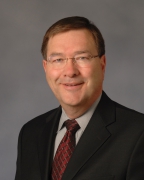 Awards
Bicentennial Medal (2020)
About Bruce A. Molitoris
Bruce Molitoris completed his BS and MS degrees from the University of Illinois before receiving his MD from Washington University. He completed his Residency in Internal Medicine, with a fellowship in Nephrology, at the University of Colorado. He came to IU in 1993 after faculty appointments at the University of Colorado and was named Director of Nephrology and Professor of Medicine. In 2001 he was named Director of the Indiana Center for Biological Microscopy. He has held visiting scientist appointments at the Max Planck Institute for System Physiology, the University of Colorado, and Colorado State University. Dr. Molitoris is a physician at Indiana University Hospital and the Richard Roudebush VA Medical Center and Eskenazi Hospital in Indianapolis.
Dr. Molitoris is one of "a select few international leaders" in nephrology whose research has focused on what is now called acute kidney injury- AKI, formerly referred to as acute renal failure. His "pioneering work" and research are "of the utmost significance" to understanding the cellular mechanisms underlying AKI, the development of new therapies for AKI, and ways to detect AKI early in the course of an injury. His early work (with Dick McIntosh), "opened a new era for cellular explanations for AKI and these remain cornerstone papers in the field." His important work on the mechanism of nephrotoxic AKI induced by aminoglycoside antibiotics, such as gentamicin, has differentiated non-toxic fractions, which is "tremendously significant" for the treatment of patients. His application of the technology of 2-photon (multiphoton/nonlinear) fluorescence microscopy to imaging live animals "opened up an astonishing new picture and understanding of the normal physiology, disease pathophysiology and therapeutic responses of the kidney." Dr. Molitoris' work has "contributed in a key way to reevaluation of the level of permeability of the glomerular membrane to albumin and the regulatory role of the proximal tubule in reabsorption of albumin." He significantly changed the profile of the Division of Nephrology at IU, leading to "a dynamic and innovative period for the division, with considerable success in NIH funding" and the award of one of only seven national NIDDK O'Brian Kidney Disease Research Centers in 2002. He also established and developed the Indiana Center for Biological Microscopy, "a world-renowned center for florescence microscopy with unmatched capabilities in intravital florescent microscopy."
Dr. Molitoris has been recognized by "Who's Who in America" in 1994, "Best Doctors in America" in 2009-15, and is a fellow of the American Society of Clinical Investigation, and the Association of American Physicians. He served as president of the American Society of Nephrology in 2012-13 and received the International Society of Nephrology's Bywaters Award for Research in AKI in 2013; he is one of only 10 recipients in the history of the award. He serves as a Foreign Adjunct Professor at the Karolinkska Institute in Sweden since 2012, and has received the alumni Award of Merit from the University of Illinois. His impact in the clinical area will be recognized with the National Kidney Foundation's Donald Seldin Award in 2016. Molitoris has published over 100 original research papers and has received over $25 million in funded research support from the National Institutes of Health, Veterans Administration, American Heart Association, Lilly Pharmaceuticals. He holds six patents and is the founding member and manager of INphoton, LLC and cofounder and medical director of Pharmacophotonics (now FAST BioMedical).