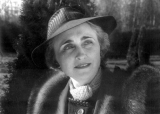 Awards
Honorary Degree (1973)

D.Mus.
Doctor of Music
Commencement
Bloomington, Indiana
Presenter: John William Ryan
About Eugenia Hubbard Honeywell
Eugenia Hubbard was born in Clay City, Indiana. Early in her life she exhibited precocious musical talent and began her piano studies with Anna Hulman. Later she was to work with some of the most important teachers and performers of the early part of this century, including Leopold Godowsky, Josef Lhevinne, and Harold Bauer. She formed a duo-piano team with Mr. Bauer and played many concerts, including an appearance in the Indiana University Auditorium in 1942. An avid performer of chamber music, she was also a soloist in her own right and appeared in concertos with the Cleveland Orchestra, the Miami (Florida) Symphony, and the Indianapolis Symphony.
In April, 1923, she married Don M. Nixon, owner of a chain of small newspapers. Upon his death in 1934, she became President of Nixon Newspapers, Inc. and she actively participated in the management of the corporation.
In February, 1942, Eugenia Nixon married Mark Charles Honeywell, founder and president of the internationally known corporation bearing his name. Always interested in cultural and educational activities, Mrs. Honeywell soon became a guiding spirit in the Honeywell Foundation, serving many years as its Vice-President. During that time the Foundation built a large community center in Wabash, initially used to promote activities for youth. It is now a center for musical, theatrical, and other cultural attractions for Wabash and adjoining regions. Other contributions of the Foundation include a large outdoor swimming pool, the magnificent Honeywell Gardens, open May 1 to November 1 for the enjoyment of thousands of visitors from all parts of the United States as well as for summer educational programs in the community schools, and the development of a field experience for Fort Wayne Dental Hygiene students.
As a patron of the arts, Mrs. Honeywell served as Vice-President of the Hoosier Art Salon. She served on the Board of Directors of Knox School in St. James, Long Island, and was appointed the Republican member of the State Policy Commission on Post High School Education by Governor Branigan. She is also the Director of the Eisenhower Memorial Scholarship Foundation, a member of the National Council of the Metropolitan Opera, the National Society of Arts and Letters, and holds an honorary Doctor of Letters degree from Tri-State College.
Eugenia Honeywell's life could well serve as a model for the women graduating from Indiana University today. Her son John Nixon and stepson Joe Nixon are both active in business and civic affairs. However, she was not content with only the satisfactory maintenance of her home. She developed outstanding careers in two diverse fields in addition to providing leadership for regional and national cultural interests.