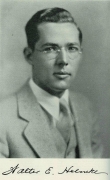 Awards
Honorary Degree (1973)

LL.D.
Doctor of Laws
Commencement
Fort Wayne, Indiana
Presenter: John William Ryan
About Walter E. Helmke
Walter Edward Helmke was born on December 17, 1901 in Fort Wayne, Indiana to Herman and Mary (Engel) Helmke. Helmke attended the parochial schools of his native community, from which he was graduated in 1916, and then entered the Central High School, Fort Wayne, from which he was graduated in 1920. After two years of literary work at the University of Indiana he entered the law department of that institution and received a Bachelor of Laws as a member of the class of 1925.
Helmke was a prominent Fort Wayne attorney, senior member of the firm of Helmke, Beams, Boyer and Wagner. Since the outset of his career, in 1925, he has been identified with a large and lucrative practice, has been prominent in many organizations, and in 1928 was elected prosecuting attorney for Thirty-eight Judicial District of Indiana, comprising Allen County and the City of Fort Wayne. He was one of the leading candidates for the Republican nomination for Governor of Indiana in 1948, but was defeated at his party's state convention.
At Indiana University, Helmke was an active member of the I.U. Board of Trustees from 1954-1956, the Indiana-Purdue Foundation from 1958-1976, and the IPFW campus advisory board from 1972-1976. He belonged to the Phi Delta Phi law fraternity, the Phi Kappa Psi national social fraternity, the Allen County Bar Association, the Indiana State Bar Association and the American Bar Association.
Helmke was a member of the Tau Kappa Alpha honorary debating society at the University of Indiana, winning the Niezer medal for debating in 1923. He was awarded the first honorary doctorate to be conferred by IPFW in 1973, and the first Ralph E. Broyles Medal in 1975. Helmke wrote the articles of incorporation for the present IPFW campus and was instrumental in the purchase of the land on which the campus is now located, thus the Indiana University-Purdue University at Fort Wayne library was named for him in 1977.
Helmke married Miss Wilma L. Wehrenberg in 1926, and was the father of Walter P. and Mary Ann. Helmke is also the grandfather of W. Paul Helmke, Jr., a former mayor of Fort Wayne, Indiana and former president of the Washington, DC-based Brady Campaign to Prevent Gun Violence.
Helmke died in Fort Wayne on February 4, 1976.