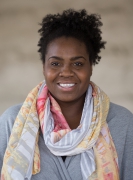 Awards
Lieber Memorial Associate Instructor Award (2016)
About Rachel La Touche
Rachel La Touche's innovative teaching methods and infectious energy have impressed not only Department of Sociology faculty but also students - many of whom credit her for opening their minds to new ways of thinking, expressing, and understanding.
La Touche joined the doctoral program in the Department of Sociology in 2009. Since then she has taught five different courses over 11 terms. In addition to teaching at IU, La Touche taught a course at the University of Mannheim in Germany and served as teaching assistant for the Inter-University Consortium for Political and Social Research summer program at the University of Michigan - well exceeding the number of courses graduate students typically teach. Teaching required courses, often to students who have little interest in the topic, is a challenge for any instructor. But for La Touche, these classes are opportunities to engage diverse students in discussion and inspire them to see the world from a sociological perspective.
La Touche introduces unique ways of bridging theory with real-world situations in her courses. For example, students in her research methods course examined public data from OKCupid to determine who is more likely to lie in online dating profiles. The exercise was published in 2015 in the newsletter of the Society for the Study of Social Problems, Teaching Social Problems Division. Because of her fresh approach to teaching and research, students consistently give La Touche's courses high ratings and describe her as fun and enthusiastic. But they also consider her tough and demanding - a difficult balance that most young professors rarely achieve in the classroom.
In the short time La Touche has been at IU, she's received an impressive number of awards for teaching and service, including the sociology department's Sutherland Teaching Award for Associate Instructors, the Social Action Award, and the Sage Teaching Innovations Award from the American Sociological Association's Section on Teaching and Learning. Her outstanding contributions to IU prove that La Touche will continue to inspire others throughout her career.