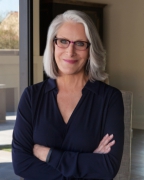 Awards
Kelley School of Business Academy of Alumni Fellows (2016)
About Traci M. Dolan
Dolan, who earned a bachelor of science degree in accounting from Kelley in 1981, has dedicated much of her professional career to working with technology companies at all stages of growth. Most recently, she served as chief administrative officer of ExactTarget Inc., a global digital marketing software company, through January 2014. From 2004 through July 2011, she was also the company's chief financial officer.
During her tenure, Dolan was responsible for all financial and administrative functions of the business, including leading the process to take the company public, which was successfully completed in March 2012. In 2013, ExactTarget was acquired by Salesforce.com for $2.5 billion.
Prior to ExactTarget, Traci was CFO of Made2Manage Systems Inc., an enterprise software company, and before that was with Macmillan Publishing USA, where she held various accounting and operational positions, including vice president of finance and operations. She began her career at Coopers & Lybrand.
In 2010, she was named Finance Executive of the Year by the American Business Awards (the "Stevie Awards"). The Indianapolis Business Journal selected her as a Woman of Influence in 2010 and as a CFO of the Year in 2009 for private companies under $100 million.
Dolan now serves on the board of directors of Steel Dynamics and is an advisory board member for several earlier-stage private technology companies. She also serves on the boards of the Central Indiana Community Foundation and Nextech. She is a former chair and board member of Techpoint Foundation for Youth and previously served on the Kelley School's board of visitors for the Indianapolis campus.