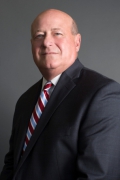 Awards
Kelley School of Business Academy of Alumni Fellows (2016)
About John C. Hart Jr.
Hart is president of J.C. Hart Co. Inc., which is celebrating its 40th anniversary this year. The company develops, constructs and manages luxury apartments in the Indianapolis metropolitan area, with approximately 4,500 apartments currently managed in 20 different locations.
After receiving a bachelor of science degree in finance from the Kelley School in 1973, Hart joined his father in the real estate business, and they formed J.C. Hart Company Inc. in 1976. Since then, the company has built more than 6,800 apartments, at a total construction value of over $500 million.
Hart was named Builder of the Year by the Builders Association of Greater Indianapolis in 1988 and received its Mike Boeke Distinguished Service Award in 1997. The Indiana Apartment Association recognized John with its highest honor in 2005, the Joe Rhodes Memorial Award.
The Westfield, Ind., resident is a past president of the board of directors of the Carmel Dads' Club, the Builders Association of Greater Indianapolis and Woodland Country Club. Hart is a Godfather and board member for St. Mary's Child Center in Indianapolis and a board member of the AAA Hoosier Motor Club and the Center for the Performing Arts in Carmel, Ind.