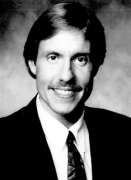 Awards
IUPUI Spirit of Philanthropy Award (2016)
About Chris Stout
Dr. Chris Stout is a licensed clinical psychologist and Founding Director of the Center for Global Initiatives, ranked as a Top Healthcare Nonprofit. As an entrepreneur he's been involved in multiple start-ups including financial management, healthcare centers, engineering, two dot-coms, real estate, and consulting.
After earning an associate of applied science degree at the Purdue School of Engineering and Technology at IUPUI in 1979, Stout went on to complete a bachelor of science degree in psychology from the Purdue School of Science at IUPUI. He did graduate work at the University of Chicago, then earned a doctoral degree in clinical psychology from the Forest Institute in Illinois. He is a Clinical Professor in the College of Medicine at the University of Illinois at Chicago, and Advisor to their Center for Global Health. He is a Fellow in the School of Public Health and holds an academic appointment in the Northwestern University Feinberg School of Medicine. He has also been a Visiting Professor at Rush University. He served as a NGO Special Representative to the UN and was appointed by the Secretary of the US Department of Commerce to the Board of Examiners for the Baldrige Award. He serves on the boards of numerous organizations and holds the distinction of being appointed to the World Economic Forum's Global Leaders of Tomorrow, joining Tony Blair, Jodie Foster, Bill Gates, and J. K. Rowling.
Stout is a Fellow in three Divisions of the American Psychological Association, past-President of the Illinois Psychological Association, and is a Distinguished Practitioner in the National Academies of Practice. He has published or presented over 300 papers and 35 books, including the highly praised and award - winning 3-volume set, The New Humanitarians. His works have been translated into 8 languages. He has lectured worldwide in over 20 countries and shared the dais with Nobel Laureates. He was "one of the most frequently cited authors in the scientific literature" in a study by Hartwick College, 2004 winner of the APA's International Humanitarian Award, 2006 IPA Humanitarian Award, 2008 recipient of the Psychologists for Social Responsibility's Humanitarian Award, and in 2009 was named International Psychology's Outstanding Psychologist.
He has worked in for-profit and governmental healthcare settings for over 25 years in clinical, research and IT leadership positions. The breadth of his work ranges from having served as a judge for Dean Kamen's FIRST Robotics competitions and presenter at the 1st International Conference on Unconventional Computing, to humanitarian missions in Asia, South America, and Africa, where he founded a kindergarten in Tanzania.
Chris is listed in TED Conferences Founder Richard Saul Wurman's "1000 -Who's Really Who: The Most Creative Individuals in America." He was named a Volunteer of the Year by Pioneer Press in 1999, and both the Illinois Senate and House similarly recognized his work by proclaiming "Dr. Chris E. Stout Week."
He has been interviewed on CNBC, CNN, NBC, PBS, NPR, Oprah, Time, The Wall Street Journal, New York Times, USA Today, and others. He's an avid endurance- and adventure-sportsman and alpinist, but his greatest joy comes from being with his best friend and wife, Dr. Karen Beckstrand, and their two children, Grayson and Annika.