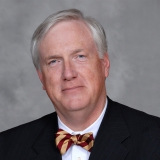 Awards
Distinguished Alumni Service Award (2018)
President's Medal for Excellence (2016)

Retirement Reception
Presenter: Michael A. McRobbie
About Daniel F. Evans, Jr.
During his 13 years as the IU Health system's president and CEO, Daniel F. Evans, Jr. has overseen the expansion of the system from three hospitals in downtown Indianapolis to a unified statewide health system of nearly 20 hospitals and health centers that treat more than 2.5 million patients a year.
Throughout his tenure, IU Health has consistently been included in the prestigious U.S. News & World Report's annual Best Hospitals rankings, which also recognizes IU Health as the No. 1 hospital in the state of Indiana. Other milestones include the opening of the world-class IU Health Melvin and Bren Simon Cancer Center, the IU Health Neuroscience Center and the Riley Hospital for Children Simon Family Tower at IU Health.
Evans has been an enthusiastic proponent of the recently announced plan for a regional academic health campus in Bloomington and helped lead the development of the Strategic Research Initiative (SRI), a five-year, $150 million collaboration between IU Health and the Indiana University School of Medicine that was created to advance research and produce innovative treatments for patients with cancer, cardiovascular disease and neurological disorders.
Evans is a well-known presence in both the federal and the state public policy communities as an advocate for health and wellness programs and high-quality, accessible healthcare. He has been deeply involved in numerous legislative healthcare matters and advocated for the renewal of the Healthy Indiana Plan (HIP), which provides access to affordable healthcare for more low-income, working Hoosiers. Evans also pushed for continued government funding of the Graduate Medical Education (GME) program to support the education and training of much-needed future physicians.
More recently, Evans announced a $1 billion investment in a new adult academic health center in downtown Indianapolis, which will serve as the system's principal referral center for patients with severe illnesses and complex cases, serving as a major part of IU Health's statewide organized system of care.
Throughout his tenure, Evans has also been faithful to IU Health's relationship with the United Methodist Church and facilitated the addition of United Methodist leaders to hospital boards throughout the system. He led fundraising efforts resulting in an endowed Evans Center for Religious and Spiritual Values, and recently secured significant funding for the Indiana Conference of the United Methodist Church to support important health, wellness and psychological services for the church's clergy, which enables them to better lead their parishioners.