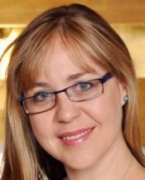 Awards
Distinguished Professor (2021)
Titled Professor (2015)

Barbara and Peer Baekgaard Professor in Alzheimer's Disease Research
About Liana Apostolova
Liana Apostolova earned her M.D. from the Medical University, Sofia, Bulgaria. She completed her postdoctoral training in neurology at Ravenswood Hospital in Chicago and the University of Iowa Hospitals and Clinics. She later served as the Tichi Wilkerson-Kassel Dementia Fellow in the Department of Neurology at the University of California Los Angeles where she was the founding director of the UCLA-Easton Alzheimer's Center Neuroimaging Laboratory. Apostolova joined the IU School of Medicine (IUSM) in 2015 as a professor of neurology, radiology, and medical and molecular genetics, and Barbara and Peer Baekgaard Chair in Alzheimer's Disease Research. She also directs the clinical core of the Alzheimer's Disease Center at IU.
Apostolova's research focuses on the early symptomatic and pre-symptomatic stages of Alzheimer's disease and the development and validation of sensitive imaging and genetic biomarkers for Alzheimer's and other dementing disorders. Her groundbreaking research explores the intersection of neuroimaging, blood-based biomarkers, and genetics. This work has established a panel of genes with the potential for diagnosing subjects who are at risk for developing Alzheimer's disease and has developed a blueprint for biological research targets for developing new treatments. Her reputation as a world leader in Alzheimer's disease clinical investigation led to her selection as principal investigator of a $45 million National Institutes of Health/National Institute on Aging grant, the largest single NIH grant ever received by a scientist at IU.
Apostolova is the author or co-author of over 100 scholarly articles and 15 book chapters. Her work has been cited more than 12,000 times with an h-index of 57. She has served as the PI or co-PI on studies funded by the National Institutes of Health, National Institute on Aging, American Heart Association, Roche Diagnostics, and the Alzheimer's Association. Among her awards are the AAN Research Award in Geriatric Neurology in 2010; the AFAR‐GE Healthcare Junior Investigator Award for Excellence in Imaging and Aging Research in 2010; the Dorothy Dillon Eweson Lecturer on the Advances in Aging Research for 2013 AHA; and the Alzheimer's Association de Leon Prize in Neuroimaging, Senior Scientist Category in 2019. She was elected as a Fellow of the American Academy of Neurology in 2015.