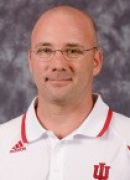 Awards
Olympians (2016)

Swimming and Diving
United States of America
Rio de Janeiro, Brazil
Head Diving Coach
About Drew Johansen
Drew Johansen was named the third diving coach in Indiana University history on April 29, 2013.
The 2014-15 season was a terrific year for the Indiana divers, highlighted by Jessica Parratto winning the NCAA Championship in platform. At the Big Ten Championships, the IU men swept all three events - 1 meter, 3 meter and platform.
Johansen was also named the head coach of the 2015 U.S. World Championhip team, where he coached former IU divers Darian Schmidt and Amy Cozad.
Prior to Indiana, Johansen spent six seasons as the head diving coach at Duke University.
In March 2013 he directed Duke diver Nick McCrory to his third NCAA title on the platform, matching titles he won in 2010 and 2011. McCrory also posted runner-up finishes on the 1-meter and 3-meter at the NCAA meet, making him a nine-time NCAA All-American. He was the 2013 Atlantic Coast Conference champion in all three disciplines and is the most decorated diver in ACC history with a total of eight conference titles. For his efforts McCrory was named the 2013 ACC Diver of the Year for the third time in as many years of competition.
From 2008-11, Johnston won six ACC titles, including a sweep of all springboard events in 2010 and 2011. In all, Duke divers have brought home 15 ACC titles in his six seasons as head coach of the Blue Devils.
USA Diving named Johansen head coach of the U.S. diving team for the 2012 Olympic Games in London. Prior to the appointment Johansen had spent seven years as a U.S. National Team coach, including serving as head coach of the 2011 World Championship team. Under his direction at the 2012 Olympic Games, U.S. divers took home four medals, including a bronze medal for Nick McCrory in the men's 10-meter synchronized competition and a silver for Abby Johnston in the women's 3-meter synchronized event. Both McCrory and Johnston dove for Johansen while student-athletes at Duke.
Overall under Johansen's direction the United States took home one gold, one silver and two bronze medals from London. It was the most diving medals for the Americans since the 1988 Olympic Games.
Johansen is a former member of the USA Diving National Team and has coaching experience at the club, collegiate, national and international level. In addition to his work at the 2012 Olympic and 2011 World Championships, Johansen coached the U.S. Diving World Championship team in 2005 and U.S. Diving Junior World Team in 2002. He founded the U.S. Elite Diving Academy in Columbus, Ohio in 2001, developing it into one of the largest and most successful junior and senior programs in the nation. Under Johansen's direction, the U.S. Elite Diving Academy won the U.S. Diving Junior Team title in 2005 and in 2006 captured the Junior and Senior team titles.
Since 2007 Johansen has been the head coach and owner of The American School for Diving, which is a USA Diving Center of Excellence and in 2012 produced a Junior World Championships gold medalist in the 16-18 women's 3-meter.
In addition to his six seasons as head coach at Duke, Johansen has served as head coach at Illinois State (1999-2001) and Florida Atlantic (1991-95), earning conference coach of the year honors four times at FAU. During the 1992-93 season at FAU, Johansen coached four All-America selections, three honorable mention All-America picks and a 3-meter national champion. While at FAU he also oversaw the program's transition from NCAA Division II to Division I. From 2004-07 he served as a volunteer assistant coach at Ohio State. He attended Arizona State University where he was a member of the diving team.
Johansen and his wife Jenny, herself a two-time Olympic diver and former head diving coach at the University of North Carolina, have one daughter, Lina Mei.