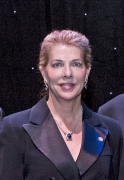 Awards
Bicentennial Medal (2020)
IUPUI Spirit of Philanthropy Award (2018)
Presidents Circle Laurel Pin (2016)

Benefactor
About Linda H. Friedlander
Linda H. Friedlander moved to Carmel, Indiana in 1979 after graduating from nursing school in Rochester, Minnesota. She practiced critical nursing before entering industry with an entrepreneurial spirit and an eagerness focusing on the treatment of heart disease, working in sales and management for Guidant Corp/Boston Scientific.
She is a founding member of the Women's Philanthropy Leadership Council and currently serves as an honorary member. She is a past co-chair of the IU Colloquium for Women. Linda serves on the Dean's Advisory Board at IU Herron School of Art and Design and the Board of Visitors for the IU Lilly Family School of Philanthropy. She is a member of the IU Foundation Presidents Circle. Alongside her husband, Ezra H. Friedlander, they have supported students at the Maurer School of Law through the Friedlander Family Scholarship.
For her commitment and dedication to the university, Linda was presented Presidents Circle Laurel Pin by the IU Foundation.