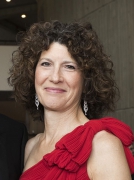 Awards
Gertrude Rich Award (2020)
IU Foundation President's Medallion (2020)
Bicentennial Medal (2019)
Presidents Circle Laurel Pin (2016)

Benefactor
About Laurie Burns McRobbie
As IU's 18th First Lady, Laurie brings broad experience with research universities to her role. She is an effective ambassador for Indiana University, actively promoting the university and her husband's vision for IU as a global leader in the 21st century. She is closely engaged with IU's extensive alumni community across the nation and around the world, championing the philanthropic spirit among IU's alumni and particularly the growing importance of women's philanthropy. Laurie is a founder of the Women's Philanthropy Leadership Council at the Indiana University Foundation and serves as its honorary chair (for updates on activities and events visit the Women's Philanthropy at Indiana University website). She is also immediate past Chair of the Executive Committee of the Association of American Universities Partners organization. In 2012, she was named the Woman of the Year by the City of Bloomington's Commission on the Status of Women, and in 2014, she was given the Leading Light Outstanding Leadership Award by the Indianapolis-based organization Women & Hi Tech.
Laurie, who has been a technologist in higher education for more than 25 years, holds an adjunct faculty appointment in the IU School of Informatics and Computing, where she helped found and currently chairs the Advisory Committee for Serve IT, an IT clinic that provides service - learning opportunities for students with Bloomington area nonprofits. She served in various management and executive positions in the central IT organization at the University of Michigan, and most recently served as an executive director with Internet2. In her faculty role at Indiana University, Laurie focuses on promoting service learning as well as science and technology literacy, particularly for historically underrepresented populations in these fields. Most recently, she has played a crucial role in the development of the new Center of Excellence for Women in Technology (CEWiT) at IU, and chairs its Advisory Council.
IU's first lady also devotes her energies to fostering the relationship between Indiana University and the surrounding community. Laurie is a board member of the Community Foundation of Bloomington and Monroe County, and has served on the boards of Middle Way House, a national model program addressing domestic violence, and WonderLab, a children's science museum. She also is a member of the community advisory board for Bloomington's Academy of Science and Entrepreneurship. Additionally, she is secretary of the board of Society of Friends of Music at Indiana University.
Laurie received a Master of Arts in Philanthropic Studies at the IU Lilly Family School of Philanthropy in May 2016. She received a bachelor's degree in history with honors from the University of Michigan in 1978 and helped establish a major in Women's Studies as an undergraduate. While working at the University of Michigan in the mid - 1980s and 1990s, Laurie co - chaired the university's Commission for Women and served on the President's Advisory Commission on Women's Issues.
Laurie received the IU Bicentennial Medal in September 2019 in recognition of her distinguished service to Indiana University.