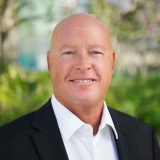 Awards
College of Arts and Sciences Distinguished Alumni Award (2016)
About Bob Chapek
Bob Chapek serves as chairman of Walt Disney Parks and Resorts, where he oversees the company's iconic travel and leisure businesses.
Throughout his 20-plus years at Disney, he has championed using the latest technology to drive growth and improve the consumer experience, developed groundbreaking business models, and identified new revenue streams to achieve business objectives and sustain long-term growth for the organization.
Chapek has a degree in microbiology from Indiana University Bloomington, and received his M.B.A. from Michigan State University. He visited IU as a College Luminary in 2013.