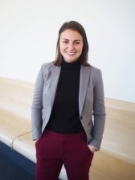 Awards
Rhodes Scholar (2017)
Wells Senior Recognition Award (2017)
About Morgan Mohr
The valedictorian of the Class of 2013 at Kokomo High School in Indiana, Morgan Mohr came to IU Bloomington as a Wells Scholar, one of 20 winners of the university's most prestigious and competitive scholarship.
Mohr will graduate in spring 2017 with majors in feminist policy through the Individualized Major Program and in political science and history, all in the College of Arts and Sciences. She has a 3.97 grade-point average and serves on the Board of Aeons, a panel of student leaders that advises the university president on policies affecting students.
Mohr has worked on a wide array of campaigns as an IU student. She worked for the Clinton campaign this fall, serving as an intern to the chief operating officer at national headquarters in Brooklyn, N.Y., and then as deputy operations director for the Florida Democratic Coordinated Campaign, coordinating workplace issues for a 750-member staff.
She has been a White House intern with the Office of the First Lady, an investigator intern with the U.S. Office of Equal Employment Opportunity, director of operations for the primary election campaign of Bloomington Mayor John Hamilton, a field organizer for the Human Rights Campaign and lead campus organizer for Freedom Indiana, which advocates for same-sex marriage and LGBT rights.
In fall 2015, she studied political science and history at University College in London and worked as a policy researcher for the U.K. Women's Equality Party. At IU, she founded two student groups committed to combating injustice, revived and led the Feminist Student Association and volunteered at Planned Parenthood and Middle Way House.
Mohr, will study comparative social policy at Oxford University in England with the scholarship. She intends to pursue a career in law and public policy.