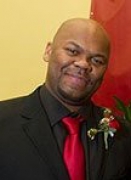 Awards
IUPUI Athletics Hall of Fame (2016)
About Odell Bradley
Odell Bradley was a two-year letterwinner for the Jaguars from 2002-04, earning honorable mention All-America honors his senior season. He helped IUPUI to the 2003 Mid-Continent Conference crown and the program's only NCAA Tournament berth in the Division I era.
His senior year, he became the program's first-ever Mid-Con Player of the Year and later earned Mid-Con Tournament MVP honors. The 6-foot-4 forward ranked among the top 10 nationally his senior season, scoring 23.1 points per game, including two 41-point outbursts against Oral Roberts. He also averaged 8.5 rebounds per game his final season and had 12 double-doubles in 2003-04.
He finished his career with 1,170 points and holds the program's Division I-era record, averaging 18.6 points per game for his career. Despite playing just two seasons at the university, Bradley still ranks 15th on the program's all-time scoring list and helped the Jaguars to a 41-25 (.621) mark during his career.
Following his IUPUI career, Bradley proceeded to play professionally, both overseas and in the U.S.