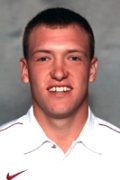 Awards
IUPUI Athletics Hall of Fame (2017)
About Michael Davan
Michael Davan (2010-12) had the best two-year run in IUPUI Golf history and closed his career as the program's all-time leader in stroke average at 73.42. His senior year, the Jags defeated 81 percent of their opponents over the course of the season.
That group won a school record seven tournaments, including The Summit League Tournament to earn a spot in the NCAA Tournament field. Davan, a two-time All-Summit Leaguer, was the 2012 Summit League Golfer of the Year and Championship MVP after carding a school record 54-hole 205 to win the league tournament. He closed the year with a school record 72.61 scoring average in 38 rounds, which included a career-best round of 64 at The Summit League Tournament.
Individually, he closed his career with 12 top-10 finishes and three tournament titles. Davan owns two of the top eight single seasons in school history, having posted a 74.32 stroke average as a junior in 2010-11.
Since his graduation, Davan has excelled on numerous professional tours, including the Web.com Tour and most recently the
PGA Tour Latinoamérica by virtue of his play at Florida Q-School. In addition, he competed in the 2015 U.S. Open at Chamber's Bay.