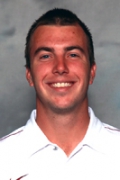 Awards
IUPUI Athletics Hall of Fame (2017)
About Ben Engle
Ben Engle (2007-12) closed his IUPUI career as one of the top players in school history, capped by helping the Jaguars to The Summit League title as a senior in 2012.
Engle graduated ranked second on the program's all-time list in stroke average (74.19) and was tops in rounds played (126).
He fired a school record 62 at the 2012 Summit League Championships in a round that included a hole-in-one. He finished that tournament with the third-best 54-hole score in school history, finishing at 207. He also closed his career with the school record 36-hole score of 138, which he carded at the Holiday Inn Colonial Classic in 2007.
Engle was part of a team that won a school record seven tournaments his senior season and won nine tournaments total in his career. The 2011-12 squad defeated a school record 81 percent of its opponents over the course of the season.
Individually, Engle finished with 21 career top-10 finishes, including winning the John Dallio Memorial his junior season.
Engle owns two of the best three single-season stroke averages in school history, including a 73.32 mark as a junior in 2010-11. He was a two-time All-Summit League performer, including earning First Team honors in 2011. He was named to the league's All-Tournament Team in 2012 and was a two-time Academic All-Summit League selection.