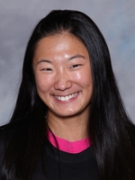 Awards
IUPUI Athletics Hall of Fame (2017)
About Chen Ni
Chen Ni (2008-12) took the IUPUI Diving program to unprecedented heights during her four-year career, becoming the first individual in school history to capture NCAA Championships. In addition, she became the first female in Summit League history to capture an individual national championship.
As a freshman in 2009, Chen became the first in school history to qualify for the NCAA Championships, before winning the national championships on the platform in both 2010 and 2012. She later earned an invitation to the 2012 U.S. Olympic Diving Trials in Washington, missing out on a spot on the Team USA.
Chen rewrote the IUPUI and Summit League record books in both the 1-meter and 3-meter dives, posting a career-best 307.57 in the 1-meter in 2011 and a record 317.60 in the 3-meter as a senior. She owns the top 10 marks off both boards in program history.
Chen was a four-time All-Summit League performer and three-time Summit League Diver of the Year. She was a four-time Summit League individual champion, having won both the 1-meter and 3-meter events twice.
The two-time All-American was named Summit League Athlete of the Month four times in her career. She was named to The Summit League Hall of Fame in June 2020.