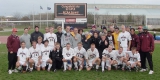 Awards
IUPUI Athletics Hall of Fame (2017)
About Men's Soccer Team, 2000
The 2000 IUPUI Men's Soccer team earned acclaim as the first sport to earn an NCAA Tournament berth in the program's Division I-era. On the heels of a regular season crown in 1999, Head Coach Steve Franklin assembled and led the 2000 squad to an 11-9-2 mark, keyed by Hall of Fame inductees Thies Hermann and Armando Femia. However, the Jaguars caught fire when it mattered most, closing the regular season with three straight shutouts over Western Illinois, Oral Roberts and Notre Dame to gain momentum heading into the Mid-Continent Conference Tournament.
The Jags stayed hot with a 1-0 semifinals win at Western Illinois to earn a spot in the championship match against Oakland. Riding Femia in goal, the Jags captured a 2-1 triple overtime victory for the league title. Six days later, IUPUI hosted Marist in an NCAA Play-In Match and won a second straight triple overtime decision to gain a spot in the NCAA Tournament. The Jags ultimately succumbed to SMU in the NCAA Tournament in a 2-0 decision.
In addition to the Mid-Con title, the Jaguars also won the Central Florida Soccer Classic and IUPUI Pops Drayer Classic titles that season.
Hermann led the IUPUI offensive attack with 16 of the team's 26 goals while Tommy Dunlap was second on the team with four goals. Femia was a rock between the pipes with 1.11 goals against average and nine shutouts in his 22 starts. Franklin's veteran squad boasted seven seniors – Brandon Barrett, Brendan Crews, Tommy Dunlap, Hermann, Justin Hines, Todd Sheely and Aaron Yoder.