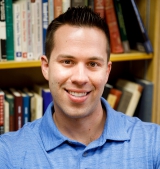 Awards
Lieber Memorial Associate Instructor Award (2017)
About Nicholas G. Zautra
Nick Zautra's ambition and love of teaching have marked him as an exceptional doctoral student and associate instructor. Not only has Zautra taught six courses, but three of them were of his own design; these include a class on the philosophy of satire, the history and philosophy of psychiatry, and animal research ethics. "No other student of mine has designed this many courses of his or her own," says Colin Allen, Provost Professor of Cognitive Science, and History and Philosophy of Science and Medicine, "and this is a testament to Nick's enthusiasm for teaching - enthusiasm that is directly manifested in his classroom work."
Student reports indicate that Zautra teaches them how to build arguments, think critically, create new ways to learn and think, and evaluate a situation before making a decision. "Not only are these skills transformative for these students' college education and learning, but these are life skills they can carry forward into the very way they see the world, navigate it, and shape their own lives and the lives of those around them," says Anthony Guest-Scott, academic coordinator at the Student Academic Center. One of his students told Zautra, "You actually make us think! This is hard! But I like it!" This is what Zautra does best: helping his students examine the foundations of their arguments and think deeply about the course material, instead of skimming the surface of it. No matter how varied the courses he teaches, critical reading and thinking skills are invariably built into each one.
Recently, Zautra taught a summer course called Learning Strategies for the New College Student. Instructor selection for this course is rigorous, with only IU's top doctoral students considered for the assignment. According to James Capshew, university historian, Zautra "is, simply put, the best among our current crop of associate instructors, and ranks among the best that I have encountered in my 25 years of teaching at IU." While teaching, Zautra walks a fine line between challenging and encouraging his students, quickly developing a rapport with them. His engaging and varied teaching methods draw out even timid students in the classroom, and his ability to create a challenging class dialogue while maintaining student participation is impressive. His student evaluations have been glowing. In order to receive constructive feedback for improvement, he has encouraged students to give critical evaluations beyond the standard forms.
Favorable evaluations are always a goal for instructors, but Zautra's determination to improve distinguishes him. His colleagues and students note that his pedagogy is excellent, and his dedication to student growth is the hallmark of a beloved professor-in-the-making. Zautra's commitment to academic excellence and his unwavering zeal for learning have earned him the respect and admiration of faculty and students alike.