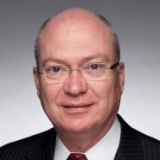 Awards
Kelley School of Business Academy of Alumni Fellows (2017)
About Gregg M. Sherrill
Gregg Sherrill assumed the role of executive chairman of the board of directors of Tenneco, after serving for 10 years as chairman and CEO. Tenneco is an $8.6 billion global manufacturer of clean-air and ride-performance components and systems. With about 31,000 employees across 23 countries, the company serves all major vehicle manufacturers and replacement-market customers worldwide. During Sherrill's tenure as CEO, Tenneco established a strong track record of revenue growth, higher earnings and improved profitability.
Before joining Tenneco in January 2007, Sherrill was with Johnson Controls Inc., where he last served as president of the Power Solutions Group, the company's global automotive battery business. He also held leadership roles in the company's Automotive Systems Group and North American operations. He began his 40-year career in the automotive industry with Ford Motor Co., where he served in a broad range of engineering and manufacturing positions during a 22-year tenure.
Sherrill serves on the board of directors for Snap-on Inc. and on the executive committee of the National Association of Manufacturers, where he is also past chairman of the board. In addition, he is a member of the National Governing Council of The Wilderness Society. He earned an MBA degree in management from the Kelley School in 1991.