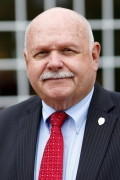 Awards
Bicentennial Medal (2021)
President's Medal for Excellence (2017)

Retirement Reception
Bloomington, Indiana
Presenter: Michael A. McRobbie
About Randy Williamson
Randy Williamson will retire from Indiana University on June 30, 2017 after ten years of service as IU President Michael A. McRobbie's driver and security liaison. In this role, Randy was a member of the IU Police Department and kept current on all continuing education and skill requirements including special training in executive protection and certification as a Federal Air Marshall. Previously, Williamson served as a police officer for the City of Bloomington for 37 years and retired as deputy chief of police in 2007.
Williamson is a lifelong resident of Bloomington, Indiana and served in the U.S. Army before entering police work. Over the years, Randy has been active as a softball player and umpire for the American Softball Association and City of Bloomington. He was inducted into the USA Softball Indiana Hall of Fame in March 2017. He also taught Boating Safety for the Salt Creek Power Squadron and coached local youth baseball.
In 2021, Randy was presented the Bicentennial Medal for his distinguished contributions to Indiana University.