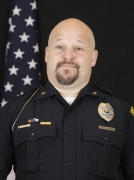 Awards
Distinguished Service Medal (2013)
About Keith Cash
Cash, a 29-year veteran of the IU Police Department, was named chief in October 2010 after serving as an operations captain on the force for nine years. During his time as chief, Cash, 50, oversaw a police force of approximately 100 officers and staff responsible for the public safety of IU's flagship campus.
Cash, a native of Jeffersonville, Ind., earned his bachelor's and master's degrees in criminal justice from IU Bloomington and in 2004 graduated from the Federal Bureau of Investigation National Academy. Cash was honored in 2011 by IU student media with the Trevor R. Brown Award, given annually to the IU Bloomington staff member who demonstrated respect and support for the First Amendment and student media.
Cash also was an instructor at the IU Police Academy and a guest lecturer in criminal justice and other classes at IU Bloomington. He served on the board of the Indiana Association of Indiana Chiefs of Police and was a member of the International Association of Chiefs of Police.