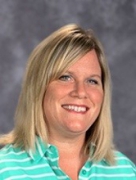 Awards
IU East Alumni Hall of Fame (2014)
About Kate Hogg
Kate Hogg graduated in 2000 with a B.A in English from IU East. She completed her Master of Arts in Teaching at Earlham College, Richmond, Indiana in 2011 and is currently working as an English teacher at Richmond High School.
After a fortuitous meeting in 2005 with Erin Gruwell, a teacher in California who shared her success with turning 150 "throw away kids" into college graduates, Hogg was so inspired by Gruwell's success that she returned to Richmond High School and shared her enthusiasm with her colleagues. With her encouragement, her fellow teachers attended a summer institute led by the Freedom Fighters, whose purpose is to change the way that teachers engage students in a classroom setting.
Continually seeking creative ways to engage students, Hogg: started a travel club to expose students to global issues; began an after school club for at-risk girls; coordinated work projects in poor communities; and organized events to expose her students to diversity and cultural opportunities.