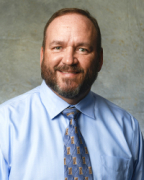 Awards
Bicentennial Medal (2020)
IU Southeast Distinguished Alumni Award (2016)
About Joey Rivera
Rivera completed a bachelor's degree from IU Southeast in 1993, and earned a doctorate in software engineering from the Naval Postgraduate School. His expertise and experience providing leadership within the software engineering domain span over 25 years. Additionally, he has 30 years of military service, ranging from a Private in the U.S. Marine Corps to that of Army Reserve Lieutenant Colonel. Rivera is currently assigned to the U.S. Cyber Command, J6, and provides expertise in cyber warfare.
As the CEO of Rivera Group, he leads the company's research and development team. He also serves on the board of directors for One Southern Indiana and the Kentucky and Indiana chapter of Paralyzed Veterans of America, Inc. Additionally, Rivera has been supporting Renaissance Academy in Clarksville, Indiana. Rivera was appointed to the board of advisors for IU Southeast in 2019.
Rivera received the IU Bicentennial Medal in August 2020 in recognition of his distinguished service to Indiana University Southeast.