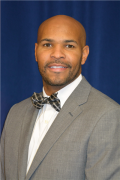 Awards
Bicentennial Medal (2020)
School of Medicine Early Career Achievement Award (2016)
About Jerome Adams
Jerome Adams is an IU alumnus, IU School of Medicine faculty member, and the 20th Surgeon General of the United States. Adams earned his bachelor's degrees from the University of Maryland Baltimore County, master's degree from the University of California at Berkeley, and M.D. from the Indiana University School of Medicine. He is a board certified anesthesiologist.
Adams served as an associate clinical faculty member in the IU School of Medicine until he was appointed the Indiana State Health Commissioner in October 2014. Reappointed to this position in 2017 by Governor Eric Holcomb, Adams was nominated to be the Surgeon General of the United States on June 29, 2017. He was confirmed to this position on August 3, 2017, sworn in as surgeon general on September 5, 2017, and commissioned a vice admiral in the United State Public Health Service Commissioned Corps shortly thereafter. As surgeon general, he serves as the "nation's doctor" and oversees the operations of more than 6,000 uniformed health officers who serve in nearly 800 locations around the world, promoting, protecting, and advancing the health and safety of the United States. Adams continues to hold a faculty appointment as an adjunct associate clinical professor at the IU School of Medicine.
Adams is a leader in numerous professional organizations including the American Medical Association, the American Society of Anesthesiologists, the Indiana State Medical Association, and the Indiana Society of Anesthesiologists. In 2016, he received the IU School of Medicine Early Career Achievement Award, which singles out graduates who make a quick mark in medicine. Adams received the IU Bicentennial Medal in 2020 in recognition of his distinguished service to Indiana University and the IU School of Medicine.