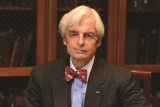 Awards
School of Medicine Glenn W. Irwin, Jr. Distinguished Faculty Award (2017)
About Leo J. McCarthy
Dr. Leo J. McCarthy has the unique distinction of being the first physician in Indiana to earn board certification in transfusion medicine.
In the early 1970s, he pioneered plasma exchange patients, including those with thrombotic thrombocytopenic purpura - a rare clotting disorder. Over a career which spanned more than thirty years, his department at Wishard Hospital - now known as Eskenazi Hospital, would transfuse more blood products than any medical center in the United States. McCarthy was instrumental in developing liver and bone marrow transplant programs at University Hospital. And in the 1980s, he spent nearly every night and weekend on-call, providing complex therapeutic support to AIDS patients.
McCarthy served as the state's inspector and accreditation area chairman for the American Association of Blood Banks for two decades. He also served on the board of the Indiana Blood Center, and served on the board, as both member and president, of the Indiana State Association of Blood Banks. Dr. McCarthy also served as the U.S. representative on the Board of the International Society of Blood Transfusion.
Authoring more than 300 papers and 18 book chapters, and delivering more than 203 invited lectures, Dr. McCarthy is a highly-regarded researcher. As a teacher, Dr. McCarthy not only lectured at IU's Indianapolis campus, but also drove to teach at the IU School of Medicine's regional campuses. For 32 years, he handled daily lectures for pathology and resident rotations, along with sessions for second-year students on transfusion science and general pathology.
Dr. McCarthy has generously given back to his alma mater. In 1997, he established the Leo J. McCarthy, M.D. Lectureship in Transfusion Medicine. He also established the Leo J. McCarthy History of Medicine Lectureship, ensuring future generations of aspiring physicians will know the roots of their profession.
Retired in 2003, Dr. McCarthy remains actively involved in transfusion medicine. In 2014, he was presented with the Distinguished Alumnus Award from the University of Nebraska College of Medicine. He is also an alumnus member of the Alpha Omega Alpha Medical Honor Society at the school.
He was born in Omaha, Nebraska, and earned his undergraduate and medical degrees from the University of Nebraska. He completed his residency at Stanford University and served his nation for two years as a field surgeon in Vietnam.