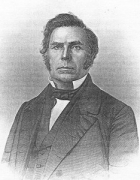 Awards
Honorary Degree (1850)

M.A.
Master of Arts
Bloomington, Indiana
Presenter: Andrew Wylie
About Edward R. Ames
Edward Raymond Ames was born in Amesville, Ohio, in 1806, sixth of eleven children of Sylvanus and Nabby Ames. He was a direct descendant of Francis Cooke, who came from England to Plymouth in 1620 aboard the "Mayflower," and of Thomas Hayward, who came to Massachusetts Bay from England in 1635 aboard the "Hercules."
In 1840, Ames became the secretary of the Methodist Episcopal Missionary Society. He was a circuit preacher in the Greencastle district of Indiana in 1841. In 1843, Ames came to the aid of IU alumnus William Daily, who had suffered mentally and physically for three years after giving up his ministry work for poor health; Ames suggested he pastor a church in Indiana. Daily took his advice, and it was at that church that Daily met his wife. Daily would later (in 1853) become the third president of IU.
In 1844, IU awarded Ames an honorary Master of Arts degree. That same year, he became a delegate to the General Conferences of the Methodist Episcopal Church.
In 1848, Ames became chaplain to a council of Choctaw Indians, being the first Christian chaplain ever elected by an assembly of Native Americans. The next year, he became Chairman for the establishment of the Orphan Asylum in Indianapolis for destitute children. Ames said, "in view of the helpless and destitute condition of many children in our State, who have been by death bereft of their natural protectors, supporters and guardians, the establishment by the State of an Orphan Asylum is imperatively demanded." The Asylum, the first such in the city, lasted over ninety years, into the administration of President Franklin Roosevelt, at which time it was merged with the subsequently established Protestant and Lutheran Orphans homes.
From 1849 to 1851, Ames was presiding elder of the Methodist Church in the central Indiana region. In the summer of 1850, he delivered the eulogy at President Zachary Taylor's memorial service, emphasizing the late president's military connection with Indiana and his own personal experiences (he had met him in 1843 at a frontier post where he was holding preaching meetings, in which Taylor, then a military colonel, was in attendance).
In 1852, five days before Christmas, Ames set sail for California and Oregon, sent by the church (via ship from New York around the tip of South America) to preside over conferences of Methodist churches there. He was a zealous missionary to the Native Americans and established several missionary schools.
In 1861, Ames's son and namesake enlisted in the Civil War, eventually rising to the rank of captain in the Army.
In 1867, Ames became bishop of the Methodist Episcopal Church (north region, Washington, DC area). Ames United Methodist Church was founded in 1873 in Saginaw, Michigan, named after Ames, who had presided over the previous year's Detroit Annual Conference. The church is still active today. He remained bishop until his death in 1879.
Ames met Henrietta Beach and married her on New Year's Day, 1834. They had two daughters (Annie, born 1834 and Laura, born 1838) and a son (Edward Jr., born 1845). In the spring of 1846, Ames's wife died at age 37, leaving him to care for an infant and two young daughters.
John Fisher Ames, Ames's brother Charles' son, born in 1862, was in the first graduating class of Mississippi A&M College (1883), what is now Mississippi State University. Charles' grandson, Ben Ames Williams, was a successful novelist and Saturday Evening Post writer; his novels and stories were made into several Hollywood films including Jubilo, Jr. (1927), Too Busy to Work (1932), Small Town Girl (1936), Adventure's End (1937) (with John Wayne), Leave Her to Heaven (1945), and Johnny Trouble (1957).
Ames's sister Lucy's descendants became known for some unusual literary pursuits. Ellis Ames Ballard, Lucy's great-grandson, born in Ohio in 1861, became a Rudyard Kipling aficionado, and his 1935 book about his Kipling collection was frequently cited because it contained thirty-five facsimiles of Kipling's work that had not been previously printed or collected. Ellis' great-grandson Frank Fuller Fowle III, a lawyer with a family of five, had the unique distinction of being a twentieth-century professional "bard"; he began doing readings of classic prose, epic poems, and American documents and made it into a living, performing in forty-seven states and overseas until his death.
Ames's namesake, Edward Ames Jr., married Emma Duryee in 1867 and had a daughter, Emma, in 1869. Ames Jr.'s wife, Emma, died one week after the baby's birth, and the daughter, Emma, committed suicide at age 33.
Ames's grandson (Annie's son) William Jacob Hiss, born 1870, and his wife Eleanor were passengers on the "Carpathia" during the rescue of the survivors from the "Titanic." Another grandson and William's brother, Raymond Ames Spruance, born in 1886, was raised in Indianapolis, Indiana, distinguished himself in World War II combat, and was president of the U.S. Naval War College (Newport, Rhode Island) and U.S. Ambassador to the Philippines under President Harry Truman. He was portrayed by actor Glenn Ford in the 1976 film Midway. Spruance Hall at the Naval War College is named after him. Several of Ames's and his siblings' descendants are pastors, evangelists, and ministers of the Gospel.
Amesville was named for Ames's mother and father in 1820. The town provided an unusually fertile ground for literary pursuits and learning. It had what was called the Coonskin Library. At an 1803 town meeting, settlers talked about their desire for books and lack of money. At that time, most business was done by barter, so little money was in circulation. However, animal pelts could be sold in the East to buy books, and Samuel Brown organized this in 1804, purchasing fifty-one books, which were passed from home to home until Ephraim Cutler was elected "librarian." Those fifty-one original books can be found today at the Alden Library of Ohio University and the Ohio Historical Society. A commemorative marker is located today, in what is now the middle of a built-up town, at the site of the original Coonskin Library. There is a Coonskin Library Museum in the same town.