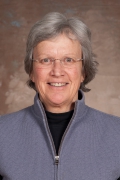 Awards
Leanne Grotke Award (2017)
About Donna K. Palivec
Donna Palivec is one of the most decorated athletes in Hoosier history, earning letters in five different IU sports.
Just as women's sports began emerging at the college-level, Palivec lettered in diving, softball, basketball, field hockey, and volleyball. She was captain of the volleyball team in both 1972 and 1973.
After graduating from IU with a degree in physical education, Palivec began coaching at the high school level. She later coached softball and volleyball at North Dakota State University. She served as volleyball coach at Montana State University. In 1994, she became volleyball coach at Bemidji State University, where she earned tenure and served as department chair in physical education, health and sport.
Palivec is an inductee in the Bemidji State University Athletic Hall of Fame, the Minnesota Volleyball Coaches Association Hall of Fame, and the North Dakota State University Bison Athletic Hall of Fame.