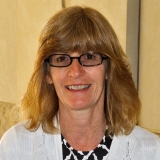 Awards
Leanne Grotke Award (2017)
About Roseann Wilson
During the years 1979-1984, Roseann was a distance runner in track and cross-country for the Hoosiers. Since that time, she has made a career in coaching.
She coached track and cross-country at IU from 1989 to 1998 and was twice named Big Ten Coach of the Year. She coached at the University of Connecticut from 1986 to 1989 and was New England indoor and outdoor Coach of the Year in 1989. She has coached 24 All-Americans and 28 Big Ten champions.
While competing at IU, Wilson was team captain in her junior and senior years, and she set a school record in the 1,500-meter run. She was awarded the Varsity Club Academic Award in 1983. She earned both her bachelor's and master's degrees in physical education at IU.