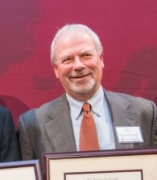 Awards
Bicentennial Medal (2020)
School of Education Distinguished Alumni Award (2017)
About Ted S. Hasselbring
Ted S. Hasselbring is a professor emeritus of special education at Peabody College of Education and Human Development at Vanderbilt University. Over the past 35 years, Hasselbring has conducted research on the use of technology for enhancing learning in students with mild disabilities and those who are at risk of school failure. For 18 years he served as the co-director of the Learning Technology Center and conducted research on using technology for providing instruction in reading and mathematics. This research resulted in several widely used computer-intervention programs for struggling learners.
Hasselbring earned a Bachelor of Science, a Master of Arts in teaching with a major in biology and a doctorate in special education, all at IU. He has authored more than 100 articles and book chapters on learning and technology and serves on the editorial boards of several professional journals. He serves on the advisory board of the George Lucas Education Foundation.
In 2020, Ted S. Hasselbring was presented the Bicentennial Medal for his distinguished service to Indiana University.