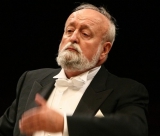 Awards
Honorary Degree (2017)

D.Mus.
Doctor of Music
Bloomington, Indiana
Presenter: Michael A. McRobbie
About Krzysztof Penderecki
Krzysztof Penderecki, was born in 1933, in Dębica, a southeastern town in Poland. He studied composition privately with Franciszek Skołyszewski, and then, from 1955-58, with Artur Malawski and Stanisław Wiechowicz at the Academy of Music in Kraków. In 1958, he began lecturing in composition at his alma mater. Penderecki has twice received the Prix Italia - in 1968 for his Dies irae Oratorium ob memoriam in perniciei castris in Oswiecim necatorum inexstinguibilem reddendam for three solo voices, mixed choir and orchestra (1967), and in 1972 for his work, Passio et mors Domini Nostri Jesu Christi secundum Lucam for three solo voices, speaker, three mixed choirs, boys' choir and orchestra (1963-66).
In 1972, he became a professor at the Academy of Music in Kraków, additionally serving as rector until 1987. He lectured, too, as an assistant professor in Essen at the Folkwang-Hochschule (1966-68) and at Yale University (1973-78).He is an award-winning composer and one of the world's most distinguished musicians. Among Penderecki's many accolades are four Grammy Awards, the 1992 Grawemeyer Award for Music Composition, the 1993 Prize of the International Music Council/UNESCO and the 2000 Cannes Award as "Living Composer of the Year."
Penderecki became a member of the Royal Academy of Music in Dublin in 1995 and a member of the American Academy of Arts and Letters and the Bavarian Academy of Fine Arts in Munich in 1998. He became a member of Poland's Order of the White Eagle in 2005 and was made Commander of the Three Star Order in Riga, Latvia, in 2006. Penderecki's "St. Luke Passion" is hailed as one of the most important sacred works of the 20th century.
He has been awarded honorary doctorates and professorships at numerous universities, including those of Rochester, Bordeau, Leuven, Belgrade, Madrid, Poznań, Luzern, Leipzig, St. Petersburg, Yale, Seoul, and at St. Olaf College, Georgetown University and Duquesne University, among others. Indiana University awarded Penderecki an Honorary Doctor of Music in 2017.