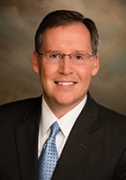 Awards
Bicentennial Medal (2020)
IU East Alumni Hall of Fame (2017)
About Timothy R. Frame
Timothy R. Frame, of Richmond, Indiana, received his associate degree in business administration from IU East in 1989 and a Bachelor of Science in Business Administration with a concentration in management in 1994. Frame is the president/CEO of West End Bank, S.B., and West End Indiana Bancshares, Inc.
In January 2015, Frame was named president/CEO and now oversees 85 employees at four locations in Richmond, Hagerstown and Liberty. In his role, he has general oversight of the bank's loan portfolio, credit quality, loan yield, portfolio growth and retail operation. He has over 29 years of experience in financial services industry and serves on numerous community boards such as the Economic Development Corporation of Wayne County, Richmond Hospital Authority, Wayne County Area Chamber of Commerce, Circle U, United Way and the IU East Board of Advisors.
In 2020, Timothy R. Frame was presented the Bicentennial Medal for his distinguished service to Indiana University.