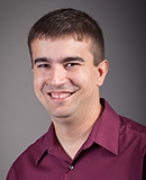 Awards
Fulbright Award (2023)

Slovakia
Fulbright Award (2017)

Estonia
About James Mendez
James Mendez received his undergraduate degree from Rose-Hulman Institute of Technology in Terre Haute, and a doctorate from Case Western Reserve University in Cleveland, Ohio.
He has completed research on the chemical properties of chitin, a polysaccharide found in the shells of shrimp, lobster, crawfish and cicada, with purposes ranging from thickening agents to wound dressings. He is also researching 3-D printing and the effectiveness of physics models in the teaching of chemistry in the classroom.
In 2017, Mendez received a Fulbright Scholarship to travel to Estonia to teach a course on biopolymers (polymers that occur in nature) and conduct research on electrically conductive composites partially derived from Estonian mushrooms.