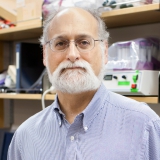 Awards
National Academies (2017)

American Association for the Advancement of Science
About Adam Zlotnick
Zlotnick is a pioneer in the study of the physics of viruses. His research focuses on understanding the mechanics of virus capsid assembly to combat diseases such as hepatitis B, a major cause of liver failure and liver cancer which contributes to nearly one million deaths each year.
His work seeks to identify new therapies based upon the disruption of this structure using experimental drugs. His lab also has conducted research on capsid assembly of other viruses including the human papilloma virus, HIV, the polyomavirus SV40 and the plant virus CCMV.
Zlotnick is a member of the experimental and developmental therapeutics program at the IU Simon Cancer Center and a co-founder of Assembly Biosciences, a company with a clinical-stage antiviral program built on research from his lab.