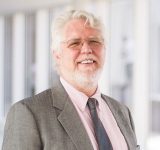 Awards
Fulbright Award (2015)

Italy
Fulbright Award (2011)

Croatia
About J. Reed Smith
Smith earned a B.S. in Business Administration (1983) and Master of Accountancy (1984) at University of Tennessee, Knoxville. In 1989, he completed a PhD in Accounting and Management Information Systems at Ohio State University. His teaching career has taken him to universities in Tennessee, Texas, Oregon and New York.
A Fulbright Scholar to Croatia in 2011, Smith is one of just a few professors in the country tackling the theoretical issues of accounting through modeling. His research focuses primarily on studying the economics of fraud and auditing and investigating connections between the two. Because data on fraud is proprietary and often very difficult to find, Smith uses modeling - the use of assumptions and sets of mathematical equations - to better understand, and sometimes predict, how and why fraud happens.
Since 2008, Smith has served as Professor of Accounting and BKD, LLP Faculty Fellow at the Kelley School of Business at IU.