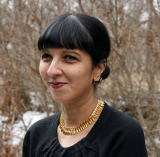 Awards
Titled Professor (2021)

Provost Professor
President's Award for Distinguished Teaching (2018)
About Pravina Shukla
Pravina Shukla received her undergraduate degree in anthropology from the University of California, Berkeley in 1992. Following this, she continued her education at the University of California, Los Angeles, completing an M.A. in 1994 and Ph.D. in 1998, both in folklore and mythology.
In 1999, Shukla accepted a position as a researcher and exhibition content coordinator at the American Museum of Natural History in New York, working in its Department of Anthropology. Shortly thereafter in 2000, Shukla joined the faculty at Indiana University (IU) - Bloomington in the Folklore and Musicology Department of the College of Arts and Science, attaining the rank of full professor in 2017. In addition to her primary appointment, Shukla holds appointments with the Department of Anthropology, the India Studies Program, the American Studies Program, and the Center for Latin American and Caribbean Studies and is a Consulting Curator with the Mathers Museum of World Cultures.
Her research focuses on different forms of art, including material culture, body art, dress, and costume. Her first book, entitled The Grace of the Four Moons: Dress, Adornment, and the Body in Modern Indian was released in 2008 to great acclaim, receiving the 2009 Millia Davenport Publication Award and the Asian Studies Association Anada Coomaraswamy Prize in 2010. She has since followed this up with three more books, released in 2011, 2015, and 2017. Additionally, she has over 25 articles and has been an invited lecturer at events around the globe. Beyond her external recognitions, Dr. Shukla has received numerous awards from IU, including the Trustee Teaching Awards in 2002, 2007, 2010, and 2016.