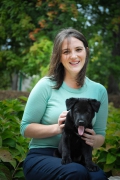 Awards
Lieber Memorial Associate Instructor Award (2018)
About Katherine Altizer
"Katherine came into our program with teaching experience quite beyond anything I had seen before in a musicology doctoral student," says Kristina Muxfeldt, chair of the Musicology Department in the Jacobs School of Music. An instructor even during her undergraduate days at Emory & Henry College, Altizer has become a master pedagogue, according to former students such as Hannah Webster. "She employed multiple teaching strategies to appeal to a variety of learning types," Webster says. "She often presented lessons as debates to incite discussion, held critical thinking quizzes in groups, had the class sing listening examples, and urged us to concept-map our ideas to 'wade into the mess, freak out a little bit, and come out with a better understanding,' as she so aptly put it."
Altizer not only has experience teaching undergraduate and master's-level courses; she has been a co-designer and facilitator of associate instructor (AI) orientation sessions for the Center for Innovative Teaching and Learning at IU Bloomington, developing with other graduate students programs for new associate instructors that focus on issues of pedagogy and classroom and teaching models.
On top of a stellar teaching record (she earns an average between 3.8 and 4.0 in every category of her online course questionnaire evaluations), Altizer has engaged in a variety of professional development activities, workshops, and programs, most of which are connected to her dissertation (working title: "Of Humpbacks and Humans: Whale Songs and Interspecies Musicology"). She was invited to attend an intensive, weeklong interdisciplinary program through the Animals and Society Institute at the University of Illinois, and she presented "An Ethics of Musical Attention: Toward a Philosophy of Interspecies Musicking" at the IU Musicology Colloquium in 2015. She was also a co-programmer of Animal Sense, a curated show of 16-millimeter and 35-millimeter animal films from the IU Moving Image Archive, at The Bishop, a nightclub in Bloomington.
As a testament to Altizer's continued success in the classroom, a lesson that she designed for a nonmajor music history class will be featured in a forthcoming book by IU faculty members Joan Middendorf and Leah Shopkow, Decoding the Disciplines: How to Help Students Learn Critical Thinking. In 2016, Altizer and Professor Giovanni Zanovello of the Jacobs School were co-awarded a Scholarship of Teaching and Learning grant to measure the effectiveness of social media and event-based history in their upper-level undergraduate elective M410 Soundscapes of Europe.
To her students and peers, Altizer is an ally. As both a teacher and a student, she is able to understand many of the pressures and outside demands that her students face. In a reflective essay, one of her students writes, "She seemed to be so understanding of my situation, and her little comments on assignments and the talks we had were one of the main reasons I felt I could carry on taking M501."
Another student told Altizer in an email message, "M401 was so daunting to me at the start of the semester, and I was very worried about the course load because of what I had heard from other students who had taken it in the past. You really made it so straightforward and enjoyable, and I'm so grateful that you were my AI this past semester."
According to Muxfeldt, Altizer's empathy distinguishes her teaching style. When she observed Altizer presenting her research and engaging with peers in a musicology colloquium and a Ph.D. seminar, Muxfeldt recalls, "If ever she suspected that we felt a presentation was underprepared, Katherine would swoop in to her classmate's defense and find a way to draw out the potential in the project, recasting a critique - even before it could be voiced - into the most generous and positive constructive encouragement.