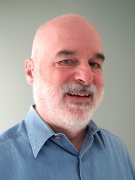 Awards
Bicentennial Medal (2020)
John W. Ryan Award for Distinguished Contributions to International Programs and Studies (2018)
About John Parrish-Sprowl
Dr. John Parrish-Sprowl is a Professor in the Indiana University-Purdue University Indianapolis Department of Communication and Director of the Global Health Communication Center. Dr. Parrish-Sprowl received undergraduate degrees in political science and speech from Ball State University in 1976. Soon after, he enrolled at Miami University in Ohio, completing a master's degree in communications in 1977. He next enrolled at Bowling Green University, completing a Ph.D. in communications with a cognate in management and marketing in 1983. Upon graduating, he became an Assistant Professor of communication science at the University of Connecticut, remaining at the institution until 1987. Then, he accepted a faculty position at the University of Hartford. In 1989, he accepted an Associate Professor position at Central Connecticut University. During his tenure at Central Connecticut, Dr. Parrish-Sprowl held visiting professorships at the Wroclaw Technical University and University of Wroclaw in Wroclaw, Poland. In 1995, Dr. Parrish-Sprowl joined the faculty at Indiana University-Purdue University Fort Wayne, becoming chair of the Department of Communication. Five years later in 2000, he accepted a promotion to full professor and department chair at IUPUI.
Dr. Parrish-Sprowl's research focuses on issues of health, economic development, and education across the globe. He has published over fifty journal articles and book chapters on these topics. This research has been supported by grants issues by USAID and the NIH. Dr. Parrish-Sprowl has maintained several professional affiliations, he is a member of the American Public Health Association, National Communication Association, Center for Intercultural Dialogue, Health Systems Global, and the WHO Roster of Experts, focusing on social and behavioral change. He has also served as an expert witness on issues of communication in several states in lawsuits brought against tobacco companies.
For his distinguished contributions to Indiana University, he was presented the Bicentennial Medal.