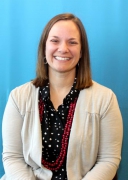 Awards
LGBTQ+ Distinguished Alumni Award (2018)
About Jean L. Orr
Jean L. Orr has, for nearly a decade, been known as a trailblazer at the National Collegiate Athletic Association (NCAA). She has led the NCAA's inclusion initiatives, working with diverse populations of student-athletes, coaches, university faculty and administrators, as well as the general public.
In 2002, Orr earned a bachelor degree from Hanover College, where she was both student and athlete. After graduation, she became a team leader for AmeriCorps National Civilian Community Corps. She returned to Indiana and earned her masters degree in Higher Education and Student Affairs from the IU School of Education in 2008.
During her Master's program, Jean served as a Student Development & Compliance Practicum Assistant, a role which allowed her to develop the international student-athlete support group. She also worked closely with the LGBTQ+ Culture Center (formerly the GLBT Student Support Services Office) to promote awareness of LGBTQ student athletes as part of the National Girls and Women in Sports Day.
With the completion of her graduate degree, Jean began her career with the NCAA as a post-graduate intern rapidly advancing to the role of Coordinator in 2009. She became Assistant Director of Academic and Membership Affairs one year later. By January 2018, Orr accepted a position with the NCAA Office of Inclusion.
While with the NCAA, Jean has served in a number of leadership roles. In the area of governance, she served as staff liaison to numerous committees regarding rules, compliance, eligibility, and inclusion. She has also acted as liaison between the NCAA's Academic Outreach Team and two national associations for academic advisors.
Orr currently serves as liaison to the NCAA's LGBTQ Working Group for Division III schools, and is responsible for overseeing the development of a culture/climate survey to guide future LGBTQ initiatives and resources.
She has been instrumental in planning and facilitating the NCAA Inclusion Forum, which works with leaders in higher education and intercollegiate athletics to improve both the educational and professional environment for student-athletes, coaches, and staff. In addition, she has helped produce the NCAA's Division III "You Can Play" and "It's On Us" video campaigns.
Orr is currently completing a doctoral degree in Higher Education and Student Affairs through the IU School of Education, and is an active member of Women Leaders in College Sports (formerly the National Association of Collegiate Women Athletic Administrators).
Because of Orr's continued leadership and support, the NCAA continues its efforts to embrace equity and inclusion for all athletes, irrespective of sexual orientation.