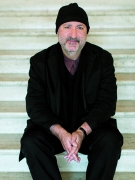 Awards
College of Arts and Sciences Distinguished Alumni Award (2018)
About Anthony DeCurtis
DeCurtis, a New York resident, is a distinguished lecturer in the creative writing program at the University of Pennsylvania, and is the author of: Rocking My Life Away: Writing About Music and Other Matters; and In Other Words: Artists Talk About Life and Work. He is also the editor of Present Tense: Rock & Roll and Culture and Blues & Chaos: The Music Writing of Robert Palmer. As a contributing editor for Rolling Stone, his work has appeared in the magazine for the last thirty five years.
DeCurtis has also co-edited of The Rolling Stone Illustrated History of Rock and Roll and The Rolling Stone Album Guide, which is currently in its third edition. He co-wrote Clive Davis' autobiography, The Soundtrack of My Life, which became a New York Times bestseller. In late 2017, he released his biography of Velvet Underground co-founder Lou Reed, Lou Reed: A Life, through Little, Brown, and Co.
DeCurtis' won a Grammy Award in the Best Album Notes category for his liner notes for the Eric Clapton box set Crossroads. He was a three-time recipient of the American Society of Composers, Authors and Publishers' Deems Taylor Award for excellence in writing about music. He has been a member of the Rock and Roll Hall of Fame nominating committee for more than two decades, and he has appeared as a commentator on MTV, VH1, The Today Show, and many other news and entertainment programs.