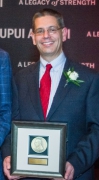 Awards
IUPUI Maynard K. Hine Medal (2018)
About James W. Hutchins
Passionate about technology, electronics and computers from an early age, Jim Hutchins has made technology solutions the primary focus of his career. Hutchins started his career in 1988, working for Indianapolis-based RDS in operations and software-development roles. He went on to earn his IUPUI degree in computer science in 1994.
In 2000, he moved from a technical role into technology leadership. Since that time, he has mentored and grown high-performing technology teams. When RDS was acquired in 2004, Hutchins assumed the role of general manager. In 2007, he joined T2 Systems as the chief information officer (CIO) and received a promotion to chief technology officer and executive vice president in 2013. T2 Systems was acquired in late 2016, and in 2017, Hutchins took began a new role as chief operating officer of Indianapolis-based Earthwave Technologies.
Since 1999, Hutchins has been active with the IUPUI Science Alumni Board of Directors, where he has assisted with growing the alumni organization and has helped create the IUPUI School of Science Alumni Association Academic Achievement Scholarship. He is married to fellow IUPUI alum Lilia Hutchins, and they have two children, Allison and Conner.