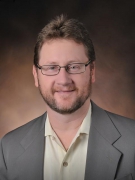 Awards
Bicentennial Medal (2020)
Chancellor and Provost Medallion (2018)

IU Southeast Chancellor's Medallion
New Albany, Indiana
Presenter: Dr. Ray Wallace
About Dan Eichenberger
Dan Eichenberger's first job at what was then, Floyd Memorial Hospital, was in environmental services at the age of 15 in 1978. Eichenberger worked as an orderly and an emergency room technician while he was in high school and college. He earned a bachelor's degree in chemistry from IU Southeast. He is a graduate of the University of Louisville School of Medicine and completed an M.B.A. in Healthcare Management from Indiana Wesleyan University.
He was named CEO of Floyd Memorial Hospital, in time to oversee the merger of Floyd Memorial Hospital and Health Services with Baptist Health in October 2016.
Outside of his work at Baptist Health Floyd, Eichenberger is a board member of One Southern Indiana, Indiana Hospital Association Council on Government Relations, Klienert Kurtz Hand Center, Southern Indiana Rehab Hospital, the Windsor Society and Align Southern Indiana. His honors include: One Southern Indiana ACE Professional of the Year award (2015) and the Pfizer Indiana Quality of Care Award (2000).