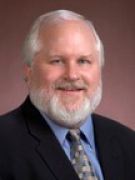 Awards
Bicentennial Medal (2020)
Chancellor and Provost Medallion (2018)

IU Southeast Chancellor's Medallion
New Albany, Indiana
Presenter: Dr. Ray Wallace
About Kent Lanum
Kent Lanum completed a B.A. in Economics from DePauw and both an M.B.A. and M.A. in Computer Resources & Information Management from Webster University.
He is chairman of the board for 1804, Inc., and the River Heritage Conservancy. He serves as a board member for the Indiana Grantmaker's Alliance, a Director of One Southern Indiana, and a Director for Endeavor Louisville.
For his work in the community, Lanum has received a number of honors, including the 2014 National Distinguished Leadership Award from the Association of Leadership Program, the 2013 Indiana Distinguished Leadership Award, and the 2013 Business Professional of the Year by One Southern Indiana.
He served a term as chairman of the board for Leadership Southern Indiana, and was a founding member and past director of Velocity Indiana. He served on the board of directors for the Indiana Philanthropic Alliance and two 4-year terms on the Indiana Governor's Regional Works Council.
He is a lifelong resident of southern Indiana.