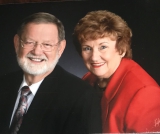 Awards
Bicentennial Medal (2020)
Chancellor and Provost Medallion (2018)

IU Southeast Chancellor's Medallion
New Albany, Indiana
Presenter: Ray Wallace
About Denny and Dorothy Ott
Dennis Ott attended IU Southeast when it was called the Indiana University Jeffersonville Extension Center. He completed his education at IU Bloomington in 1968.
Not long after founding their construction company in 1973, Ott began giving back to IU, supporting the IU Southeast School of Business, the Well House Society, and Indiana University Athletics.
In 2015, Ott accepted an appointment to the IU Southeast Board of Advisors where he serves on its Development Committee. He also serves on the IU Southeast Athletics Department Champions Dinner committee. In 2017, Dennis and his wife, Dorothy, pledged $50,000 to establish the D. Ott Family Scholarship as a means of offering financial support to IU Southeast student-athletes.
Dorothy started Dennis Ott & Co. Inc. alongside her husband before opening her own construction company, Ott & Company. Her passion is the development of children and young adults in the community. To that end, she has a long history of volunteerism at: the Epilepsy Foundation; Boys and Girls Club; American Cancer Society Relay for Life; Our Lady of Providence; and St. Anthony's Catholic School theatre programs.
Dorothy served on the Rauch, Inc. Board of Advisors and the Salvation Army Advisory Board, and helps coordinate the Angel Tree Program. She has been honored with The Salvation Army Service to Mankind Award (2014) and the Lifetime Service Award (2017).
The Otts received the IUS Chancellor's Medallion in 2018 from Chancellor Ray Wallace. In 2020, the Otts received the IU Bicentennial Medal in recognition of their distinguished service and contributions to IU Southeast.